We provide the best foot and ankle care at the comfort of your home throughout Chicagoland of Cook, Kendall, Will, Lake, Kane, DuPage, McHenry counties , we will see You within 24-48 hrs!
We speak English, Spanish, Polish and Russian.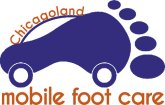 Frequently Asked Questions
What happens after I complete the online Contant Our Office form?
One of our intake specialists will contact you within 24 hours to schedule an appointment and provide you with a date and time frame of the doctor's visit. Note: If the given time is not convenient, every attempt will be made to accommodate your schedule. At the time of your appointment, the doctor will discuss the time frame for a follow-up visit. Please Note: If you would like to set up an appointment IMMEDIATELY call us directly at 312-998-0974.
What should I expect on my first in home visit?
Our visiting Doctor will contact the patient prior to any in-home visit and discuss his arrival time. He will arrive at the home in a clearly marked "Chicago Home Foot Care" vehicle and intro/present himself in a professional matter wearing "Chicago Home Foot Care" scrubs.
What are your instrument/equipment sterilization standards?
Chicago Home Foot Care and our doctors take sterilization of our instruments/equipment seriously and go above and beyond the most accepted sterilization standards. With each home visit, the doctor will open a sterilized pouch of instruments in front of the patient before a procedure. We use Midmark Autoclave on a daily basis to sterilize instruments.
What information do I need to make an initial appointment?
When should you see a Podiatrist?
What is an ingrown toenail?
What are corns and calluses?
If I have diabetes, should I see a podiatrist?
How often will Medicare pay for nail trimming and corn and callus removal?
My elderly parent does not speak English, do you have interpreters?
Can X-Rays be taken during a home visit?
My elderly parent suffers from Dementia; can I still schedule a home visit?
Is it safe to cut my elderly parent's toenails?
Do you accept credit cards?