We provide the best foot and ankle care at the comfort of your home throughout Chicagoland of Cook, Kendall, Will, Lake, Kane, DuPage, McHenry counties , we will see You within 24-48 hrs!
We speak English, Spanish, Polish and Russian.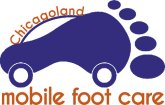 Dr. Galina Podolskiy, D.P.M. is a podiatrist treating patients in Chicago, Illinois, and the surrounding communities at Chicago home foot care mobile services. Patients visiting Dr. Podolskiy can receive a full range of podiatric services. Her areas of professional interest include neuroma and neuritis, homeopathic injection treatment, minimally invasive surgery and laser treatment for veins and hair. Evaluations for worker's compensation is also available, as well as treatment for issues including bunions, warts, arthritis, hammertoe, foot infections, and foot pain. She also provides innovative treatments such as minimal incision/no scar surgical procedures, plasma-rich platelet injections to help her patients recover from treatment as quickly and painlessly.
Dr. Podolskiy attended the Dr. William M. Scholl College of Podiatric Medicine. She completed her residency at Oak Forest Hospital of Cook County where she received in-depth training in podiatric medicine and surgery. She holds membership with the International Aesthetic Foot Society and is affiliated with Weiss Memorial Hospital and Saint Anthony Hospital. In 2011, Dr. Podolskiy received the prestigious Executive of the Year award from Stanford's Who's Who Award for her work in Podiatry Medicine.
Dr. Podolskiy is dedicated in her commitment to treating all patients and family members with compassion, dignity, and respect. Her extensive experience in podiatry is coupled with genuine concern for her patients. She is dedicated to her patients' comfort and providing prompt attention
Dr. Podolskiy and the staff at Chicago home foot care mobile services are currently welcoming new patients and accept most major forms of insurance as well as Medicaid.