We provide the best foot and ankle care at the comfort of your home throughout Chicagoland of Cook, Kendall, Will, Lake, Kane, DuPage, McHenry counties , we will see You within 24-48 hrs!
We speak English, Spanish, Polish and Russian.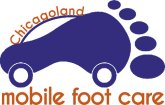 Hello dear patient ! If you're researching a Chicago DPM, Chicago podiatrist or Chicago foot doctor, you probably have a good reason for doing so. Whether that reason is because your feet are hurting or you're seeking help for a family member or loved one, we strive to provide you with as much helpful information as we can on our website so that you can make an informed and educated decision. Any foot or ankle injury has not only medical implications but social and lifestyle implications. That's why our Practice is geared toward treating the patient, not just their feet. Patients can expect highly tailored programs and treatment regimes that aim to treat each foot condition while making sure the patient's life is impacted as little as possible. The Foot and Ankle Specialists of Chicago home foot care serve patients from throughout Greater Chicago. The podiatrists provide a wide variety of services including treatments for plantar fasciitis, bunions, hammertoes, corns, warts, ingrown toenails, heel pain, gout, heel spurs, athlete's foot, ankle injuries, neuroma, sports injuries, poor circulation, wounds and ingrown toenails, corns and calluses for Chicago Housecalls.
The doctors are experienced , licensed and certified in podiatric medicine and foot and ankle surgery. They work together to provide the highest quality of podiatric patient care. Their ultimate goal is to help their patients to recover and return to pain-free active lives. The practice philosophy is to practice continuous learning so that patients benefit from advanced podiatric practices and equipment as well as unequivocal knowledge and expertise.
We often see patients from all age groups .We see patients who have never been to podiatry office before as well as patients who have chronic foot and ankle problems and patients with diabetes. Having served over 120,000 happy patient's for over 17 years , chances are that we can diagnose what's causing your feet discomfort and how to heal it.We like to say this because it's true – your feet absolutely are your foundation. Foot pain and ankle pain aren't normal, and leaving a condition untreated could potentially make it worse. Typically, if your discomfort in your foot or ankle has lasted more than two weeks, we recommend that you see a podiatrist. This allows us to treat your foot or ankle injury or condition most effectively, and typically without surgery.
New patients are currently welcomed at Chicago home foot care . Most major forms of insurance are accepted.
Over 120,000 Happy Feet Have Found Foot Pain Relief With The Chicago Podiatrists At Chicago home foot care mobile services

Find your relief today with Chicago home foot care to schedule your appointment with our Chicago area podiatrists, foot doctors, DPM's today!