We provide the best foot and ankle care at the comfort of your home throughout Chicagoland of Cook, Kendall, Will, Lake, Kane, DuPage, McHenry counties , we will see You within 24-48 hrs!
We speak English, Spanish, Polish and Russian.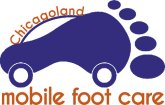 Senior Foot Care / Home Visits Available
When we age we need a special type of care, that is not only critical to our health, but it is also important to enjoy activities we are used to and like to continue on. Seniors are subject to much more foot and ankle problems that when left without proper diagnosis and treatment might worsen. Especially this concern of diabetic patients. Here at Chicago Home Foot Care we understand how important that is and we do our best to help our seniors. For all patients,that cannot visit us due to problem walking we offer home visit, as we want to make sure you are being well taken care of.
Call to schedule house call appointment today (312)998 0974