We provide the best foot and ankle care at the comfort of your home throughout Chicagoland of Cook, Kendall, Will, Lake, Kane, DuPage, McHenry counties , we will see You within 24-48 hrs!
We speak English, Spanish, Polish and Russian.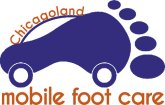 We use most innovative techniques to provide you with relive from pain by making custom orthotics.
Gait Scan is innovative diagnostic tool and digital casting device that allows practitioners to analyze patient biomechanics of walking and order custom made orthotics, that's reflects every individual foot structure . Gait Scan provides a comprehensive biomechanical foot and walking pattern evaluation for each patient to apply proper foot arch support in shoes in the form of custom made insoles and minimize possibilities of error in diagnosis and treatment.