We provide the best foot and ankle care at the comfort of your home throughout Chicagoland of Cook, Kendall, Will, Lake, Kane, DuPage, McHenry counties , we will see You within 24-48 hrs!
We speak English, Spanish, Polish and Russian.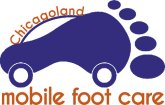 Can't Reach Toenails to Cut Them Anymore?
Older people complain that at some point, for one reason or another, it is no longer possible to reach toenails for clipping.
Thick hard to cut toenails;
Difficulty reaching the toe;
Arthritic hands making operation of the clippers hard;
Toes that are bent or otherwise not "as usual" due to conditions like arthritis
What is available – our foot doctors will be happy to help you to solve this problem! Toe nail cutting is eligible service for house call  podiatrist /mobile podiatrist if you are unable to visit foot clinic due to any of those reasons:
Being patient of home health organization, or visiting internist;
Post-surgical recovery;
Inability to walk/travel to the office due to pain, weakness, loss of balance , fragile health;
Being a resident of assistance living facility;
Being wheelchair bound/ bed confined/ in need of walking assistance devices, such as crutches , walker, scooter
Have your primary doctor visiting you at home as well.
Call to schedule house call appointment today (312)998 0974