We provide the best foot and ankle care at the comfort of your home throughout Chicagoland of Cook, Kendall, Will, Lake, Kane, DuPage, McHenry counties , we will see You within 24-48 hrs!
We speak English, Spanish, Polish and Russian.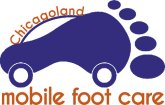 Testimonials
Chicago Home Foot care
Our Patients Testimonials
Testimonials

5

out of

5

based on 16 reviews.

Anonymous

Overall rating:
Chicago Home Foot Care always appreciates feedback from our valued patients. To date, we're thrilled to have collected 9 reviews with an average rating of 5 out of 5 stars. Please read what others are saying about Chicago Home Foot Care mobile services below, and as always, we would love to collect your feedback..

Urszula G.
★★★★★
"
From scheduling appointment to visit itself the process was nice and easy. Doctor took time to explain everything in details, I was very pleased with overall experience.
"
Sandra K.
★★★★★
"
Physician always answers all my questions. Staff is always nice, friendly and efficient.
"
Sue C.
★★★★★
"
Everyone is professional, nice and friendly. We always have great time.
"
Linda G.
★★★★★
"
I was very satisfied with overall experience at this, they took excellent care of me.
"
Nabil Ammar
★★★★★
"
Very friendly doctor and staff, they make you feel at home. 5 STAR!
"
Carmelita C.
★★★★★
"
Home services they provide are exceptional, I'm very satisfied !
"
Mullen D.
★★★★★
"
Great home foot care, Doctors are professional and well equipped in case of any unexpected issues that might arise.
"
Frey C.
★★★★★
"
Chicago home foot care is wonderful, they will take great care of you!
"
Mary C.
★★★★★
"
Great foot care service for home bound patients, i've been using them a lot. Very satisfied.
"
Annie H.
★★★★★
"
Home foot care at it's best, i highly recommend their services.
"
Peggy R.
★★★★★
"
Very friendly doctor, good service, 5*!
"
Pamela C.
★★★★★
"
Very friendly and kind doctor.
"
Kenneth S.
★★★★★
"
Very satisfied with their services.
"
John S.
★★★★★
"
Great doctor and easy to set up home visit, i recommend this place for all home bound people.
"
Baets L.
★★★★★
"
Dr. Gelbmann is wonderful, he comes to my home on regular basis and i can't say enough how great he is.
"
Leave Review