We provide the best foot and ankle care at the comfort of your home throughout Chicagoland of Cook, Kendall, Will, Lake, Kane, DuPage, McHenry counties , we will see You within 24-48 hrs!
We speak English, Spanish, Polish and Russian.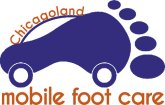 House Calls Podiatrist
Our Philosophy at Podiatry housecalls services of Chicago home foot care mobile doctors 
At Chicago home foot care mobile podiatry for housecalls , we offer a variety of services (including prescription orthotics , custom made and over the counter ankle braces , Dr. Comfort diabetic shoes) as well as Podiatry housecalls in northbrook, Deerfield, Glenview, Wilmette, Oakbrook and Hindsdale, to keep your feet and ankles healthy. We also focus on education and preventing future problems. 
Our podiatrists are ready to treat your feet. The doctors also perform surgery when it's the best option. But If surgery is needed ,we offer along with conventional surgical techniques, the unique and rarely offered and experienced to perform in other clinics , this technique is done by innovative minimal invasive approach, more like foot arthroscopy ,but not by arthroscope, but under mobile digital X Ray , to preserve healthy tissue and just perform surgery to the area of need . 
When you or someone you love is in pain, you want to find the best person to help. Your choice of a physician should be someone who respects your individual needs and who is dedicated to finding a healthful, complete approach to relieving pain, correcting the problem, and helping you avoid the problem in the future. In addition, you want a doctor who will take time to listen to you and hear all of your concerns. Our medical practice is committed to these ideals. We want our patients to enjoy good their healthy and functional feet for a lifetime and at the same time, we are dedicated to finding ways for our patients to maintain the level of activity that ensures good mental health as well. Our doctors are sympathetic to their patients' pain, Specializing in Podiatric prevention and treatment of diabetic wounds and footwear. Our area of interest includes diabetic foot care, foot injuries and geriatric foot care. Our great and experienced doctors find the most innovative method to cure the foot problem quickly and with minimal disruption to the patient's lifestyle. Using the best in non-surgical and surgical treatments, our podiatrists treat whatever foot, ankle and leg problems you may have. As a team, our staff also focuses on preventing injuries, and keeping you — and your family — healthy and strong. Our Mobile foot doctors , Podiatrists cover full area for housecalls of Greater Chicago , including suburbs such as : Hinsdale , Willamette, Oakbrook, Hindsdale, Deerfield , North brook, Glenview Near Chicago loop, etc.